There are many benefits that come with picking the proper frozen food packaging, when the right packaging is in use, you can be sure of the food's safety and an extended shelf life.
In this article, we'll explore some common types of containers for packing frozen food, and extra measures to take when considering frozen food packaging for small businesses. This article will also inform you about the advantages of producing your own packaging for your small business. Read on to find out more about these!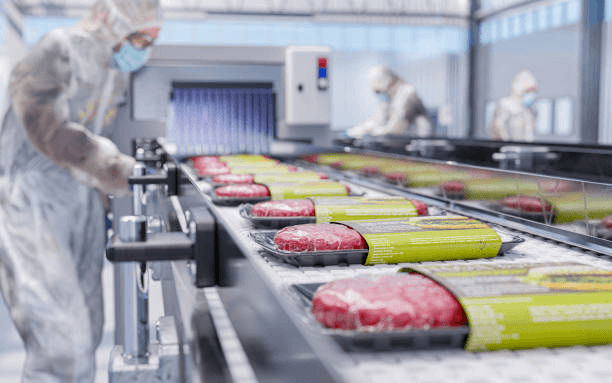 Importance of Frozen Food Packaging
The right kind of packaging for frozen food helps to make sure your food stays safe, extends its shelf life, maintains its integrity to make logistics easier, and even improves your branding and marketing. Let's look at these in more detail.
Ensure Food Safety
Food safety is an important aspect of frozen food. Frozen food has specific temperature and humidity needs when being stored and transported.
Packaging products help to protect frozen food from environmental influences like light, air, water, and dust. This improves food security and maintains its freshness while being transported.
Additionally, packaging products reduces spoilage during transport, which reduces the contraction of deadly foodborne illnesses such as diarrhea. These products, which include options like cardboard boxes, foil, and pouches, also prevent the emergence of foreign, unpleasant odors.
Extend the Shelf Life
Frozen foods with less amount of preservatives and frozen foods that need to be stored at varied temperature levels all need to be stored differently. For example, frozen food preserved with CMC—which is short for carboxymethylcellulose— can be stored at varying freezing temperatures without altering its shelf life.
On the other hand, highly delicate frozen food like fish stored without the help of preservatives need to be stored in temperatures around 0°F, and with specific types of packaging options like paperboard and cardboard (Learn: Cardboard vs Paperboard: Essential Comparison) . Otherwise, food spoilage will occur.
Luckily, packaging options like paperboard and cardboard boxes, and expanded polystyrene foam help to maintain and even extend frozen food shelf life due to the high level of insulation and protection from external factors.
Branding and Marketing
Today, branding and marketing are vital for frozen food packaging for small businesses. In the food industry, brand owners are now beginning to consider various ways to express their style, voice, and ethos using packaging.
Infographics and uniquely designed PE film, EPS, and plastic pouch packaging can help add credibility and trust to products stored in them which in turn improve sales.
Food companies like Nestle and Kellogg's have paid special attention to food health and come up with amazing, distinctive packaging that tells part of their brand story.
Improves Overall Logistics Efficiency
The right packaging helps to utilize as much space as possible in storage areas like warehouses, and transport vehicles like trucks. By doing so, more goods will be able to be distributed in similar or less time, saving shipping costs and allowing the transport of these goods in a more organized fashion.
It also helps with better handling while loading and unloading your company's frozen food on and from transport vehicles.
Common Types Of Containers For Packing Frozen Food
Plastic films, flexible plastic pouches, paperboard and cardboard, aluminum foil, expanded polystyrene foam, and rigid plastic materials are the common types of containers used to package frozen foods. They are lightweight and offer flexible packaging options for all kinds of frozen foods.
Plastic Films
Plastic packaging products take up a huge market share in the packaging industry. Plastic films are used by millions of people worldwide for a variety of foods, and frozen foods are no exception.
There are various plastic films that are suitable for frozen foods, such as PVA-coated high-barrier film; low-density polyethylene film (LDPE); Polyester film(PET); and Biaxially oriented polypropylene film.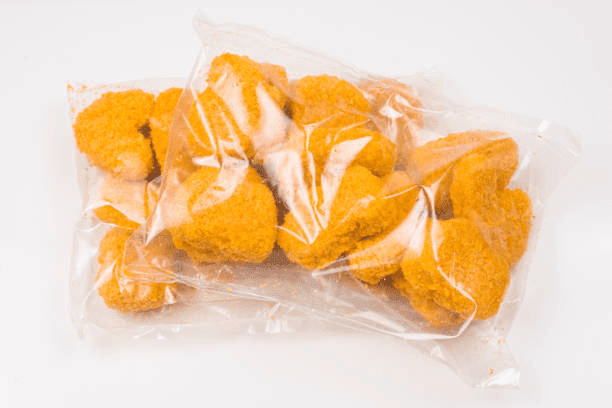 Flexible Plastic Pouches
Plastic pouches are one of the most common flexible packaging products. Asides from leftovers, raw, and processed foods, you can also use it to store frozen foods. Similar to plastic films, they can also be made from various products like light-density polyethylene, polypropylene, nylon, and polyethylene.
When packed with flexible plastic pouches, frozen foods will stay fresh and remain edible for longer. This is because of their ability to keep elements like moisture, dust, and UV light out.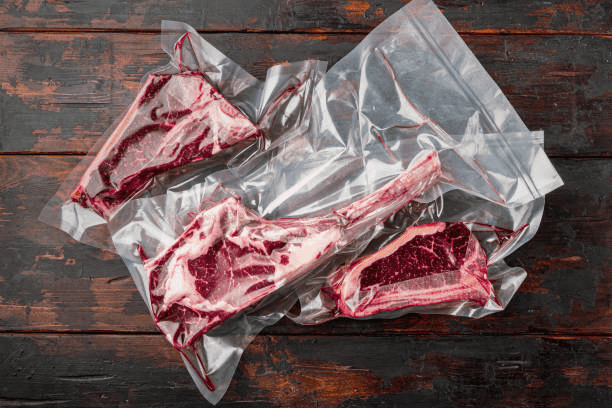 Paperboard and Cardboard
Paperboard and cardboard are undoubtedly the most common packaging materials for raw food. Many frozen food-producing companies use these packaging materials for large, heavy-duty food amounts.
Cardboard, which is also called chipboard, is another common option for packing frozen food. This type of packaging is sturdy, can withstand moderate amounts of damage, and is extremely useful for making frozen food shipping boxes for national and international shipping and transport.
In addition to these, paperboard and cardboard boxes also help with organization and help to free up space for better transport and shipping efficiency. It's also lightweight, suitable for a variety of frozen food products, and cost-efficient, which makes it a popular option among many frozen food manufacturers.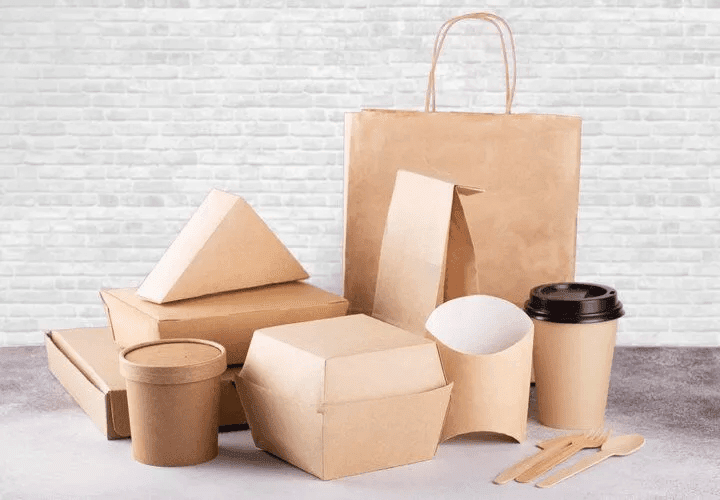 Aluminum Foil
Aluminum foil is used for many packaging needs and in many industries, including the food processing industries. Many people use aluminum foil as one of their top packaging options because it has resistant properties against bacteria and other microbes, and it is dust and light resistant.
Compared to plastic films, aluminum foil is slightly more expensive to produce. However, Aluminum foil is a great packaging choice for eliminating contamination, retaining temperature, and improving food security.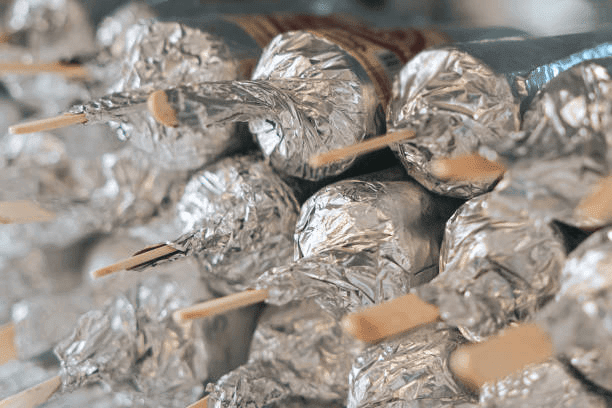 Expanded Polystyrene (EPS) Foam
The expanded polystyrene foam, which is produced from solid beads of polystyrene, is another popular packaging option. It is very versatile, strong, and it has low thermal conductivity. This low thermal conductivity is due to its closed-cell structure which consists of 98% air.
Additionally, it is very water resistant. If you soak this material in a body of water, it will retain very little water, making it perfect for storing small and large quantities of frozen food.
Expanded polystyrene foams are often fitted perfectly to the frozen food size, and each side has various levels of thickness and density. This thickness and density help with insulation, keeping frozen foods in good condition during transport.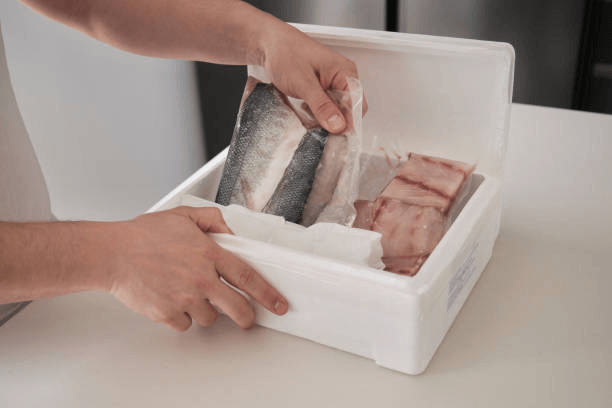 Rigid Plastic Containers
No matter what you want to store, you can never go wrong with rigid plastic containers. Plastic containers are durable and lightweight. They don't cost a lot to transport from place to place, and they can absorb lots of impact from road turbulence which keeps your frozen food intact.
These plastic containers are also versatile; you can use them to store various kinds of frozen foods like foods that require reheating, Ice creams, and proteins. Couple that with its low costs, and it's easy to understand why it's such a popular packaging option.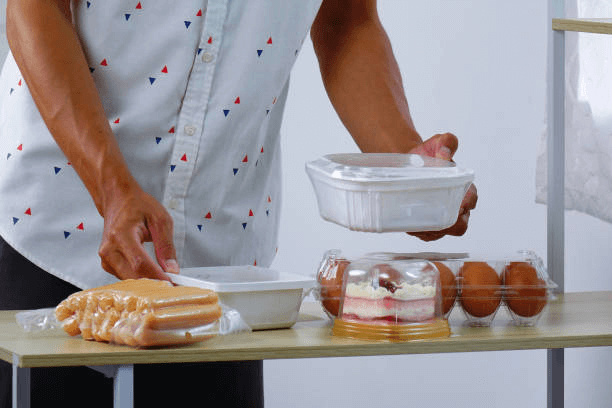 Factors to Consider When Choosing Frozen Food Packaging
There are various factors you have to consider before you choose a particular frozen food packaging, some of which include how compatible the packaging material is with your product, how convenient it is for your customer, its impact on the environment, and more.
Packaging Material Compatibility
The packaging material you choose must be compatible with the specific frozen food product you want to consume, store, and distribute.
How cold does this food need to be? How acidic is the frozen food? How much fat does it have? These are all questions you need to ask while thinking about a suitable packaging solution.
For example, if you need to store highly-sensitive fish that need freezing temperatures, a material that can withstand extremely cold temperatures without cracking or becoming brittle should be used. An example of this frozen food packaging material is plastic film.
Barrier Properties of the Packaging Material
Another thing to consider is how well it keeps the environment out. Some packaging materials such as plastic and EPS foam, due to their components and nature, can resist moisture, air, light, and dust more than others.
A general rule of thumb to note is that it's best to go for packaging materials that can keep more environmental forces like dust, air, light, and microbes from contaminating your food. Choosing packaging materials that provide an air-tight seal will help to provide the foods with a moisture barrier, or barrier against environmental or external pollutants that can affect the quality of the food.
Consumer Convenience
Consumers typically go for packaging that lets them open, close, store, and reseal frozen foods. Packagings like plastic pouches and cardboard boxes significantly help with consumer convenience. They are easy to open, close, and even carried by consumers.
On the other hand, packaging like EPS foam may not be able to be resealed, making consumers less likely to go for it. Understand your market and target audience, and choose the most convenient type of packaging for it.
Environmental Impact
Considering packaging's environmental implications is another important consideration to take into account. Unfortunately, not all frozen packaging is safe for the environment, and, in fact, contributes to environmental pollution.
To combat this, many people and companies are looking towards eco-friendly packaging options like plastic pouches. Before you decide on what packaging to use, make sure you consider how much impact it has on the environment. The best options are the ones that include recycled materials.
Cost-Effectiveness
It's vital to make sure you strike a balance between cost and quality. If you don't do this, you may be spending more than you expect on the packaging, which will ultimately lower your overall profit.
For example, if you want to store a small chunk of fish, you can drop it in a plastic container and cover it up with aluminum foil for extra measure. Alternatively, you can store it in a plastic pouch. Going for appropriate packaging, rather than storing this small chunk of fish in bigger packaging options, makes sure you save costs on packaging.
Steps to Custom Frozen Food Packaging for Small Business
Before mass producing custom frozen food packaging for your business, it's important to make sure you define what packaging you need and where to get it from and test out the packaging to make sure it's suitable for your product. Here are these steps in more detail below:
Define Your Packaging Requirements
Packaging requirements are a very important step to consider when making custom packaging. Depending on the type of frozen food you make, you will have specific packaging requirements.
Your packaging option should be easy to fill, easy to fill, and easy to store. Additionally, it must be strong and durable, and be able to withstand low, freezing temperatures. Otherwise, it may become brittle and crack.
Lastly, your custom package should be able to protect frozen food from off-coloring or spoilage.
Select a Packaging Manufacturer
It's best to go with packaging manufacturers that can deliver in time without altering package quality.
Additionally, some packaging manufacturers use automation, while others use hand assembly to make their products. Decide on what type of product you want to go for because the mode of production is extremely vital.
This factor can determine shelf life and the maintenance of your frozen food's integrity during transport due to the uniformity or variance of package quality. Handmade containers will vary in quality, while automatically made packaging will have more package quality uniformity.
Prototype and Sampling
If you don't test out the packaging's ability to protect your product, you could have inconsistencies with your food's integrity. That said, you need to test out this packaging at different temperatures and conditions before rolling it out to your customers.
Frozen food boxes, most especially, need lots of testing because they're arguably the most common packaging option for transport. You can test these new prototypes with a few people and communicate your findings to the packaging company. After a few tries, the packaging company will typically be able to provide the right custom packaging for your product.
Modify Details and Mass Produce
After ascertaining the overall functionality of your product, the final step to take is to customize the package. The frozen food package should be customized to be functional, and aesthetically pleasing.
Customizations for frozen food packaging should be made to better handle the storage and transport of frozen food. For marketing, it's also essential to personalize packaging by adding your company's name and other necessary information such as a logo.
After communicating what changes and customizations you want to make to the packaging company, and testing out the packaging's integrity, the final thing to do is mass produce.
Advantages of Producing Your Own Packaging
Undoubtedly, there are some benefits to making your own packaging and custom frozen food boxes. A better packaging solution is to buy a packaging machine for your company. This often beats having to work with packaging suppliers because it gets complex and complicated, very often. Here's more on this difference-making advantage.
Reduce the Expenses
It may seem like a lot of money to spend on packaging equipment, but, in the long run, it will help you reduce the overall expenses on packaging. If you know how to make highly functional packaging, you'd save lots of money on producing frozen food bags, and on transport and shipping.
Also, rather than forking out extra money for customizations, you can make custom frozen food boxes and other packaging options right from the comfort of your office!
Respond Rapidly to Market Trends
If you want to keep selling to your customers, you have to be able to keep up with trends. Having your own packaging machines helps you respond to market trends better and quicker, and allows you to customize your packaging in record time.
Custom frozen food boxes reportedly create a higher level of customer satisfaction and a better customer experience than generic boxes.
Guarantee Packing Quality
If you manage to get the packaging processing right, you can be sure that its quality is incontestable. Rightly processed packaging should have a high amount of insulation, and be able to withstand low temperatures and humidity.
You'd also be guaranteed that your packaging options like frozen food boxes will be able to specifically protect what you want to store and transport.
KETE: Offer the High-Quality Packaging Making Machine
KETE is one of the best companies to get your packaging machines. They have packaging machines for packaging pouches and paper products. They also have machines for label printing and flexo printing. Let's look at these in more detail.
Pouch Making Machine
KETE offers several pouch-making machines that have the latest technology. With their machines, you can create several types of packages such as 3 side seal pouches, frozen food bags, or zipper pouches for any industry.
Additionally, you can use several types of materials such as Nylon; BOPP; PET; CPP; PE; Nylon; Paper; and Aluminum foil. KETE currently offers pouch-making machines like the KTSS-H Series 8 Side Seal, the KTSS-G Series Bag In Box, and the KTSS-F Series Stand Up Pouch.
Machines like the KTSS-H use different kinds of laminated film to make 8-sided sealing bags. It also has a PLC touchscreen system, an auto tension control system, and a servo motor system to simplify the pouch-making process.
Having any of these pouch-making machines helps you keep up to date on the market trends and keep up with orders!
Paper Products Making Machine
This company also offers paper product-making machines because it's a huge advocate for environmental sustainability and protection. With their machines, you can make high-quality frozen food shipping boxes. Ultimately, your company saves costs and time by producing its own packaging, rather than going through the complexities that come with packaging company collaborations.
In order to produce these paper products, they currently sell machines such as the KTPP-BW Series Glue Sealing Paper Box Machine, the KTPP-BH Series Hot Sealing Paper Box Making Machine, and the KTPP-AC Series Fully Automatic Paper Straw Bevel Shape Cutting Machine.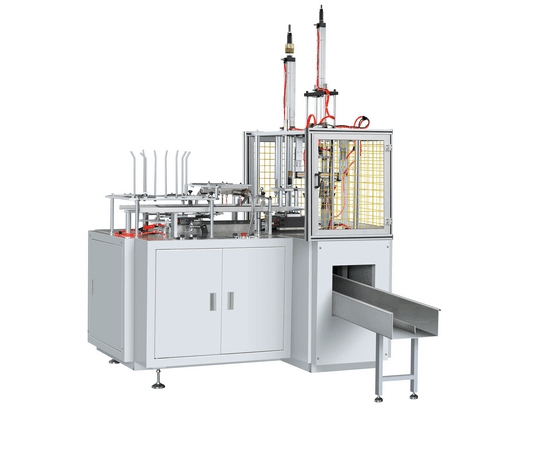 Label Printing Machines
Label printing is a huge part of customization. KETE currently offers label printing machines that can make labels in multiple shapes and sizes for your packaging needs. You can use it to print anything you want on frozen food bags, frozen food boxes, or other types of packaging options.
Mostly using rolling paper, their labeling machines on a fully-automated, optimized servo motor system with a high production rate.
Also, they provide equipment for different labeling needs such as Electrical /UV/IR Drying Systems, Complete Label Printing Production Line, Like Doctor Blade Systems, Inline Embossing Devices, Inline Laminating Devices, Inline Die Cutting Devices, and Other Pieces Of Equipment.
Their label printing machines include the KTLP-A Series Flexo Label Printing Machine and the KTLP-AD Series Inline 3 Die Cutting Flexo Label Printing Machine.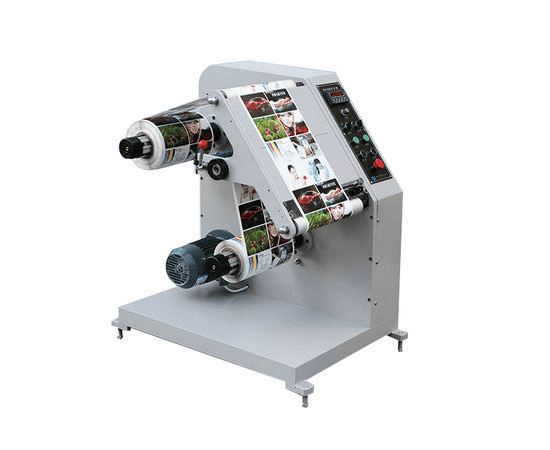 Flexo Printing Machines
Flexo printing machines are very suitable for food manufacturers because they help with marketing by transferring quick-drying inks to frozen food packaging. The whole process is environmentally friendly and safe for frozen food products.
KETE currently offers machines that are easy to operate and provides stellar printing solutions across various packaging products.
They offer several types of flexo printing machines such as the KTFP-A Series Flexo Printing Machine and the KTFP-B Series Flexographic Machine.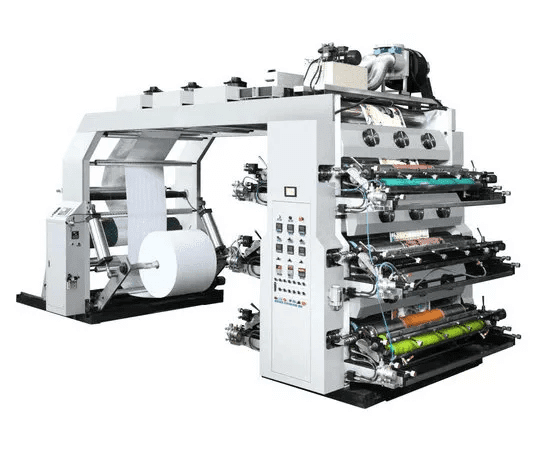 Conclusion
Finding the right frozen food packaging is not the easiest thing to do. When inefficient packaging is used, it could alter the food's integrity. This alteration could cause the emergence of odors, spoilage, and contamination.
KETE offers packaging machines that can be deeply customizable and tailored to meet your custom requirements. Our machines can produce a wide variety of packaging products, and many of these machines run themselves; they're fully automated.
If you want to save costs, time, and effort on making quality packaging products for frozen foods, KETE is the way to go. Get in touch with us today to take your orders!